Star Trek Timelines' Webstore is a website, accessible from all platforms, where currencies (Dilithium and Chronitons) as well as special offers can be purchased.

The Webstore is accessible via this link: https://store.startrektimelines.com
Right off the bat, you will be presented with different offers on the main page; just scroll down to see the rest of the offers.
Alternatively, you can navigate to different sections of the Webstore such as Campaign, Limited Time Offers or Currency by using the links found at the top of the page.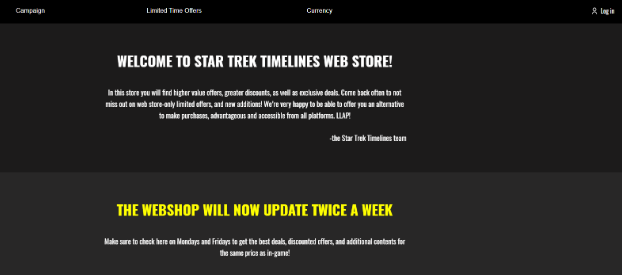 How to make a purchase?
To start making purchases, log-in to the Webstore using your unique game account identifier known as DBID. Make sure that you have the correct DBID ready. This long number can be found in-game, in the settings which are accessible via the Menu icon found at the top right corner Menu > Settings.
The DBID can easily be copied by tapping this number in-game and selecting the white round button as shown below.

Known issue: this is currently not working when playing on Facebook.com
In the Webstore, select Log in.

Key-in/paste your DBID and select Continue.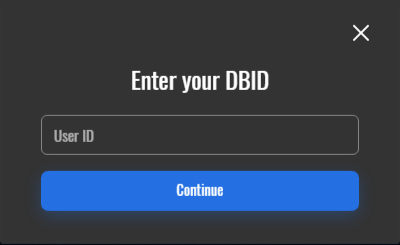 Choose the offer that you want to buy and select BUY NOW.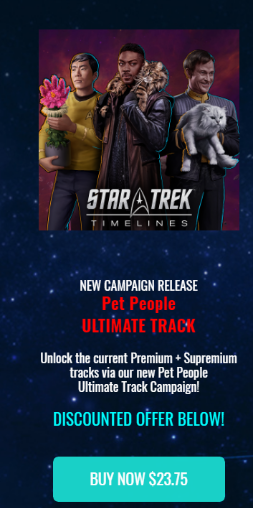 Why are some prices less interesting than in game?
Please note that the available payment providers in your location have different commission rates, and fees, when carrying out transactions through the Webstore.
Depending on the available payment providers in your location, you may be able to select one with a more advantageous rate.
To know the different payment options available in your county, tap the icon indicated below: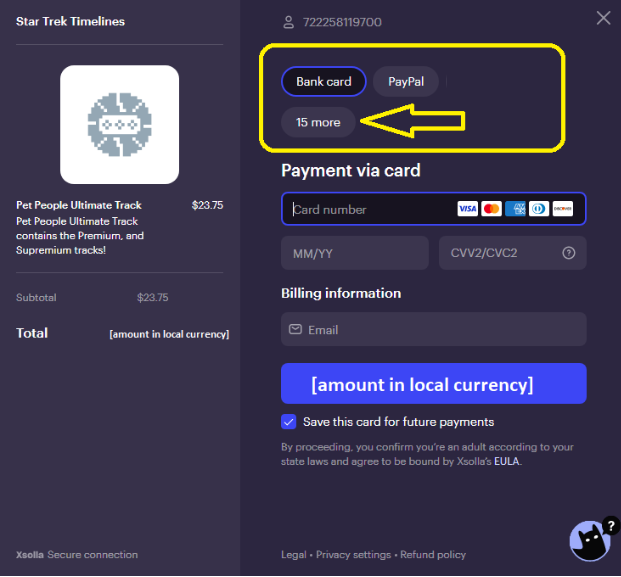 The above, on top of a potentially different exchange rate compared to regular app stores, explains why you might see less advantageous Webstore pricings.
Once you choose which payment method to use, key-in your email address where the transaction receipt should be sent to. We highly recommend using the email address associated with your game account.
If you have not registered your game account yet, you can find the necessary instructions here
Once a purchase is confirmed, an in-game mail will be sent out confirming the items purchased.
When do offers get updated in the Webstore?
The offers in the Webstore change every Monday and Friday, around noon Eastern Time.
What to do when you experience difficulties during your purchase?
If you experience any issues, the best course of action is to contact the Player Support team immediately.
When contacting STAR TREK TIMELINES Player Support team, it is recommended to provide the following information when you submit a ticket:
Copy of your purchase receipt (if you have been charged)

Date of the transaction

The type of offer you were trying to buy
Alternatively, you can also contact the Webstore Support.


To do so, choose the Help icon at the bottom of the purchase window; there are various options available such as Viber, Whatsapp, Xsolla Chat Support and some others.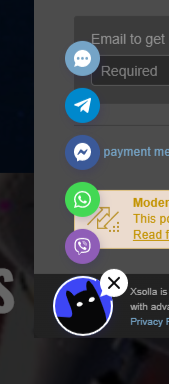 What is Error code: 0401-1421?
"Impossible to buy a non consumable item, if the same is in inventory".
If you encounter this error code when making a purchase in our Webstore, contact our Player Support team immediately so we may look into it for you.

It usually means that you have already reached the purchase limits for a particular offer, but we will gladly double check that for you.