The Crew Retrieval feature was added to the game in February 2021 to provide players with a new way to obtain their favorite crew.
Polestar Crew Pool

When accessing Crew Retrieval via the Manifest, you'll arrive in the Polestar Crew Pool where all crew eligible for retrieval will be displayed.
Use the search option to search for the crew you would like to retrieve.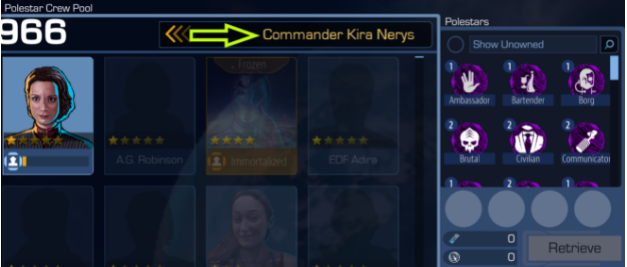 Select the crew to access the detailed information and select "Show Polestars" to see the Polestars relevant to that specific crew.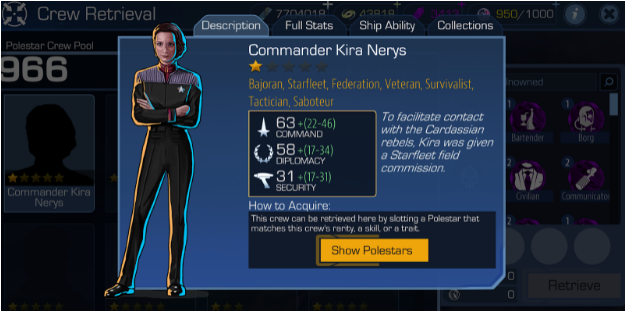 You can select up to four (4) Polestars among those relevant for the chosen crew. If you don't have the required Polestars, you can buy them from the Celestial Marketplace.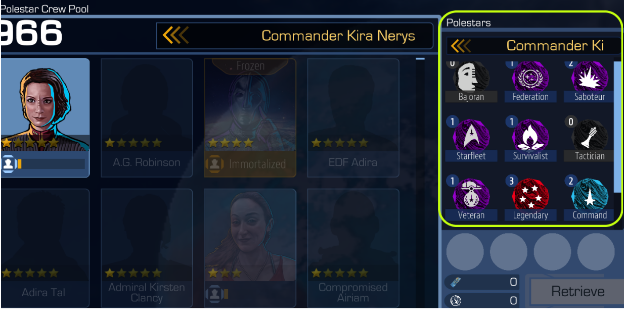 There could be several crew obtainable from these combinations of 4 Polestars; unless the pool displays only one crew, it is not guaranteed that the crew you are trying to retrieve will drop.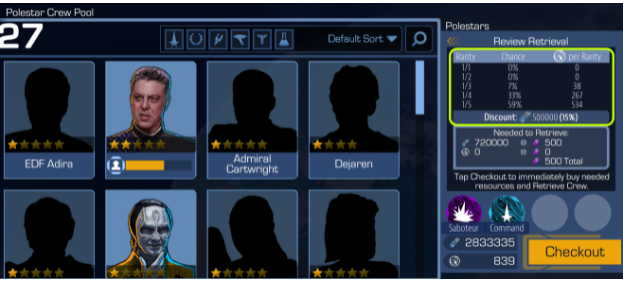 Not all crew within the pool have equal chances to drop. After selecting 4 Polestars, you will be presented with a Review Retrieval window, just above the Checkout button. That window will display the drop chance per rarity.


For example:
Selecting Commander Kira Nerys and selecting the Survivalist and Command Skill Polestars will show a Polestar Crew Pool of 51 crew available for retrieval with those specific polestars.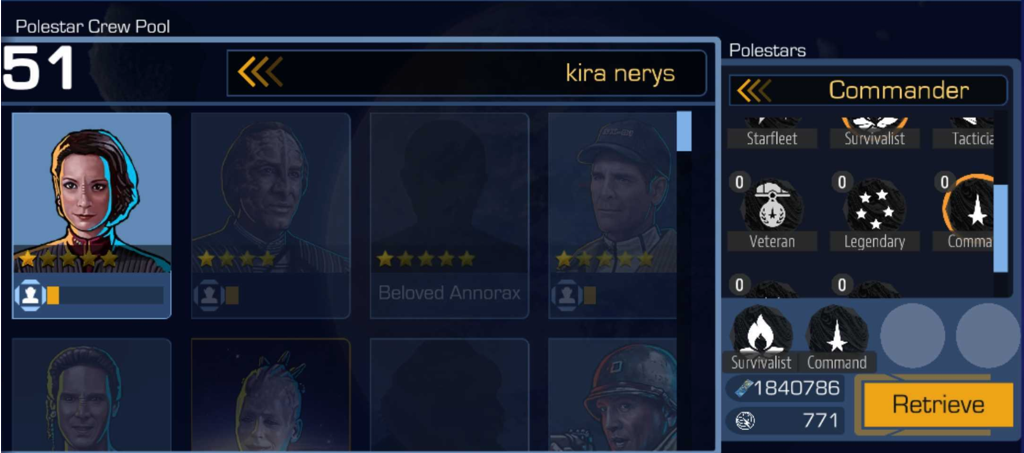 In order to get a copy of Commander Kira Nerys you will have to try out various combinations of her Polestars until you come up with a selection that narrows the pool size to 1.

Using the following Polestars: Legendary, Saboteur, Survivalist and Command Skill will display a Polestar Crew Pool of 1.

Provided that you have the required amount of Quantum and Credits, this will allow you to specifically retrieve Commander Kira Nerys.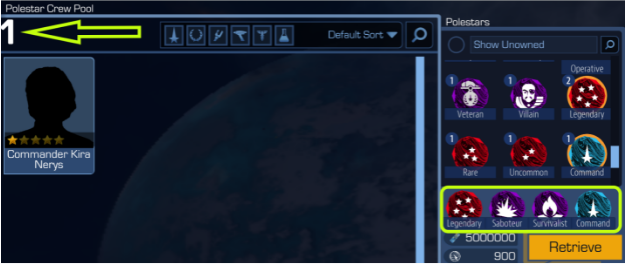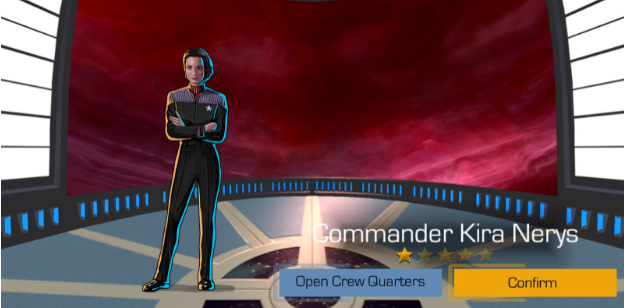 Please note that the ability to narrow the pool size to 1 is rare and not always a possibility. However it is always recommended to try various Polestars combinations to reduce the pool to the smallest amount of crew possible.


Available Crew in Crew Retrieval:
Not all crew available in the game are obtainable via Crew Retrieval: limited crew, special fused crew, Voyage/ Episode/ Gauntlet exclusive crew are excluded. Here are some of these crew:
Honor Hall -

Kahless The Unforgettable, Captain Beverly Picard, Emergency Medical Holoprogram Mk. 1, Stargazer Picard, Nanoprobe Phlox, Borg Queen Seven, Captain Tribble

Gauntlet -

The Red Angel, Locutus of Borg, Armus, Caretaker, Bartender Guinan, Balok

Voyages -

The Clown, Fierce Guinan, Lucien, Dr. Leonard McCoy, Jannar, Thot Gor, Ensign Picard, Colonel Worf

Fusion -

Tuvix, The Duras Sisters, Indulgent Seven, One Zero Zero One, Evolved Janeway, Reunion Spock and Kirk

Collections -

Lucille Davenport

Achievement -

Commanding Officer Sisko, Locutus of Borg (Gauntlet based achievement - also attainable through Gauntlet)

Episode -

Quinn
To confirm if a crew is available via Crew Retrieval, you have two options:
- The Crew Retrieval Panel will display a list of all crew eligible for retrieval. You can search by name but also filter the list with the help of the various sorting options such as skill, crew level, etc
- The Cryostasis Vault allows you to search for a specific character, and accessing their details will show you whether they are eligible for retrieval or not.


For example:
Let's see if Mirror McCoy is retrievable.
Start by searching for Mirror McCoy in the Vault, and then select the crew avatar.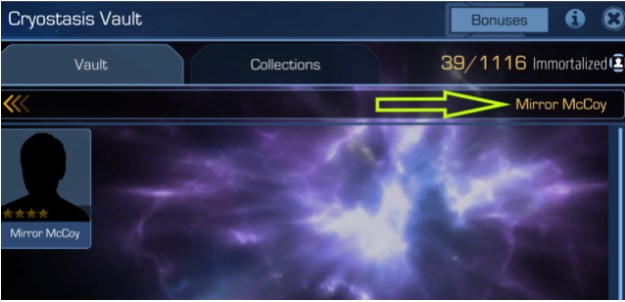 In the following pop-up, tap on the crew image to access the detailed information.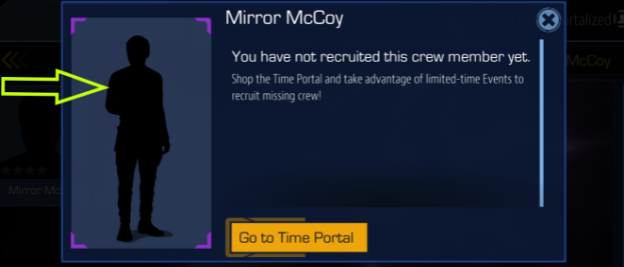 The Description tab provides valuable information about the crew and shows whether the crew is obtainable via Crew Retrieval or not.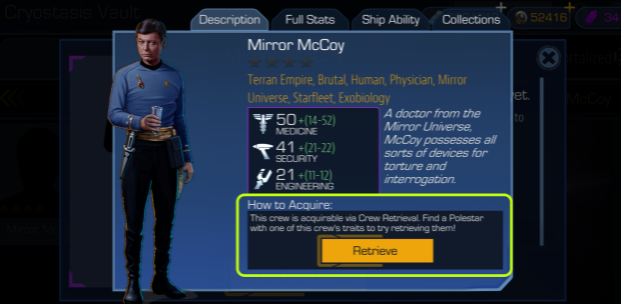 The example below shows a crew that is not obtainable via Crew Retrieval and provides specific information and direct link on how to obtain that crew: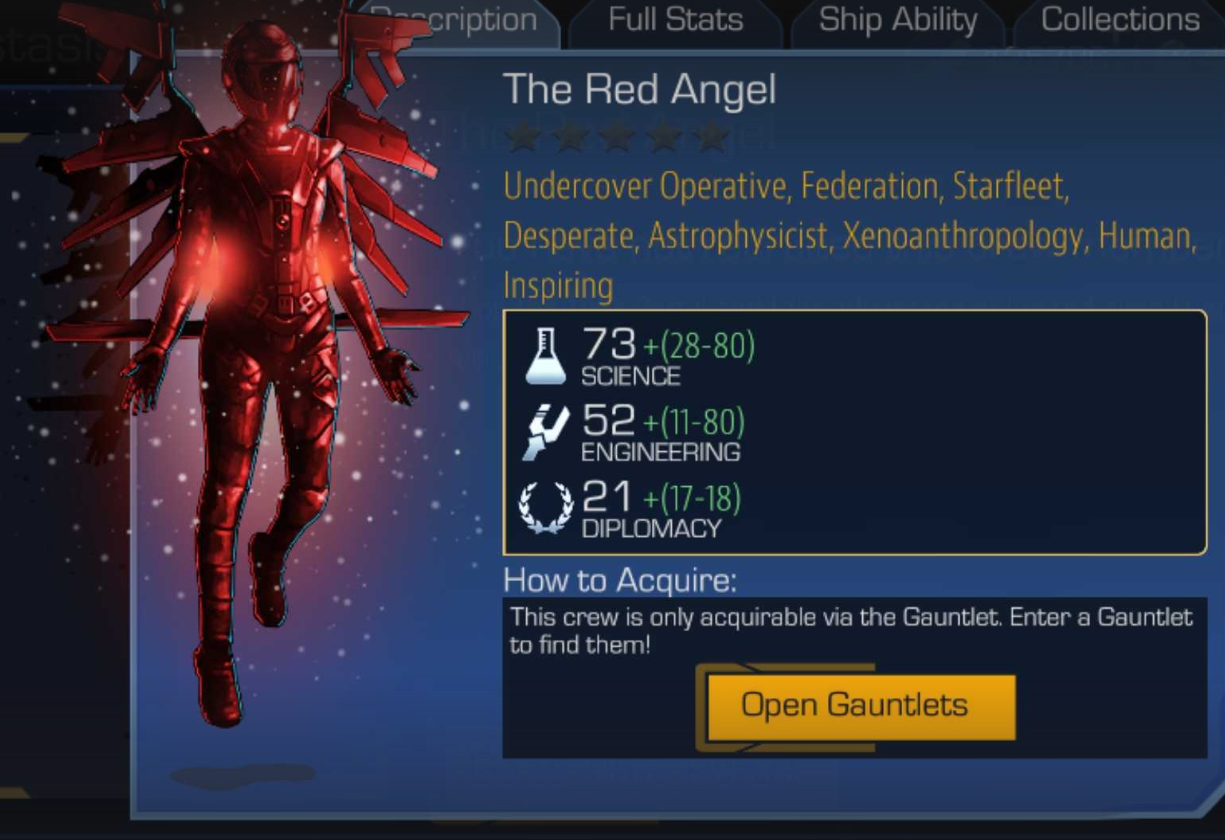 Related: https://startrektimelines.zendesk.com/hc/en-us/articles/1500002338481-Crew-Retrieval-Introduction