Reach out to our Support Team for any questions or issues related to Star Trek Timelines, especially if it is not covered in our Help Center.
There are three ways to contact Player Support, meaning that you can always reach us even if the game is not loading.
1. Contact support from within the game
Click on the Menu button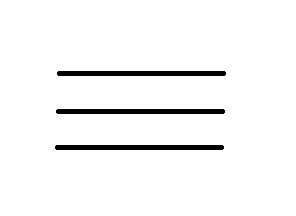 on the upper right corner of the screen and tap on "contact support".
Tap on "Email Support"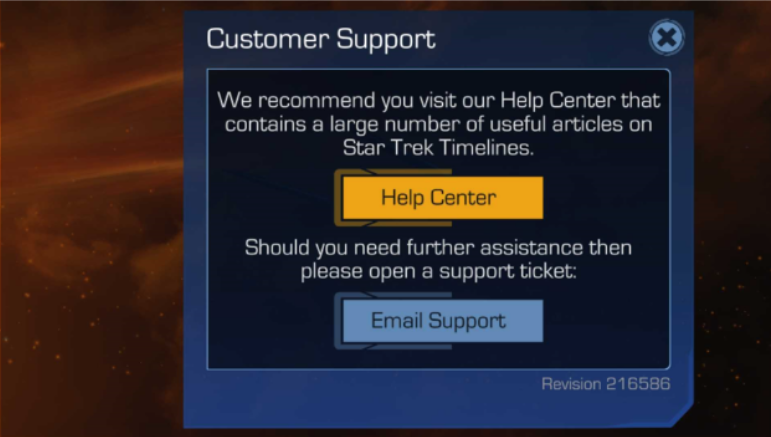 Fill in the required information and hit "Send". You can edit the default subject "New Support Ticket" to something more specific to your area of concern.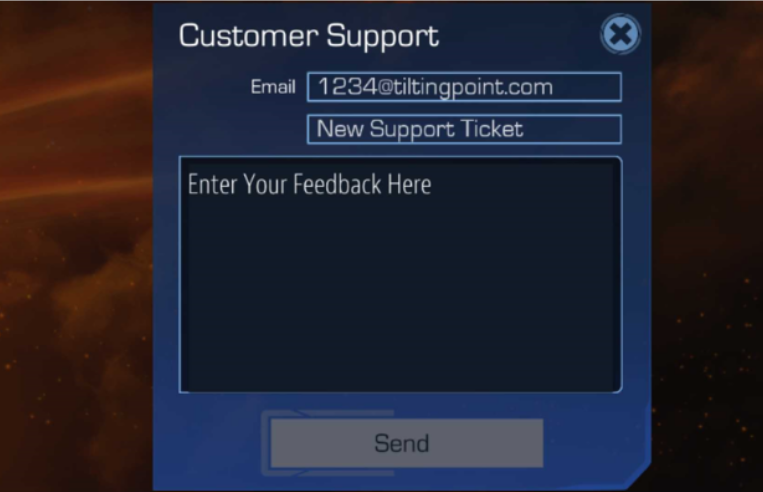 While there is no option to attach a screenshot with this method, once your ticket is submitted, you will receive a confirmation email. Replying to that email will allow you to send attachments that will update your ticket.
2. Contact support outside of the game
A. Via this Help Center
Submit your request from within our Help Center by clicking here
The ability to submit a ticket is always available via the link found at the top right of the Help Center.

Fill in the form with information about your support request and the type of issue you are experiencing.
B. You can also submit a request by sending an email to sttsupport@tiltingpoint.com
Additional information:
There are steps you can take to help in getting your issue resolved more quickly:
Do not send multiple tickets for the same issue.

Be as precise and concise as possible in your description of the issue at hand.

If it involves a purchase in the Time Portal for Dilithium, do provide the name of the pack in question.

If it involves a purchase done with real currency, please provide a copy of the receipt from the relevant store/platform (a bank statement is not valid). If you need to update your ticket you can reply to the email you received confirming that your request is in our system, or sign in here!
Note that the credentials for Zendesk are not the same as the one you use for the game. As long as you have sent a ticket in, your email address is already known on the portal and you will only need to create a password for your account.
When you go to log in, at the bottom-left you will see: "Have you emailed us? Get a password." Following that link and instructions will allow you to create credentials for our Support Portal.